Palestinian Liberation - Limited 50 - Charity Drive
Regular price
RM250.00 MYR
Regular price
Sale price
RM250.00 MYR
Unit price
per
Sale
Sold out
Get it between -
Step into the realm of solidarity with our Palestinian Liberation Necklace, a profound testament to unity and support for our brothers and sisters in Palestine. At the heart of this exquisite piece lies the iconic Dome of the Rock, a symbol deeply embedded in the history, culture, and aspirations of Palestinians and Muslims worldwide. On the back of the pendant, the map of Palestine and a poignant poem is engraved:
"Land and sky, where freedom's wings shall fly, Palestine's strength will touch the sky."
This is more than a piece of jewelry; it's a statement, a conversation starter, and a source of inspiration for Palestine's freedom, in shaa Allah! 
Share
Materials

The Palestinian Liberation Necklace is made of Premium Stainless Steel dipped in pure 18 Karat Gold. Waterproof and Rust-Free.

Hypoallergenic & Sensitive Skin-Friendly
Care Instructions

- Remove before showering or swimming
- Keep away from moisture
- Avoid contact with chemicals
- Allow perfumes and lotions to dry before wearing.
- Store it in the jewellery pouch provided
- Avoid wearing in the bathroom or exposing them to impurities (as they are engraved with Quranic verses)
- Please be advised that it is NOT appropriate to use our jewellery as an amulet/charm (tangkal azimat).
Dimensions

Pendant: 25mm
Chain: 16 inch + 6 inch extension

Elaan Satellite Chain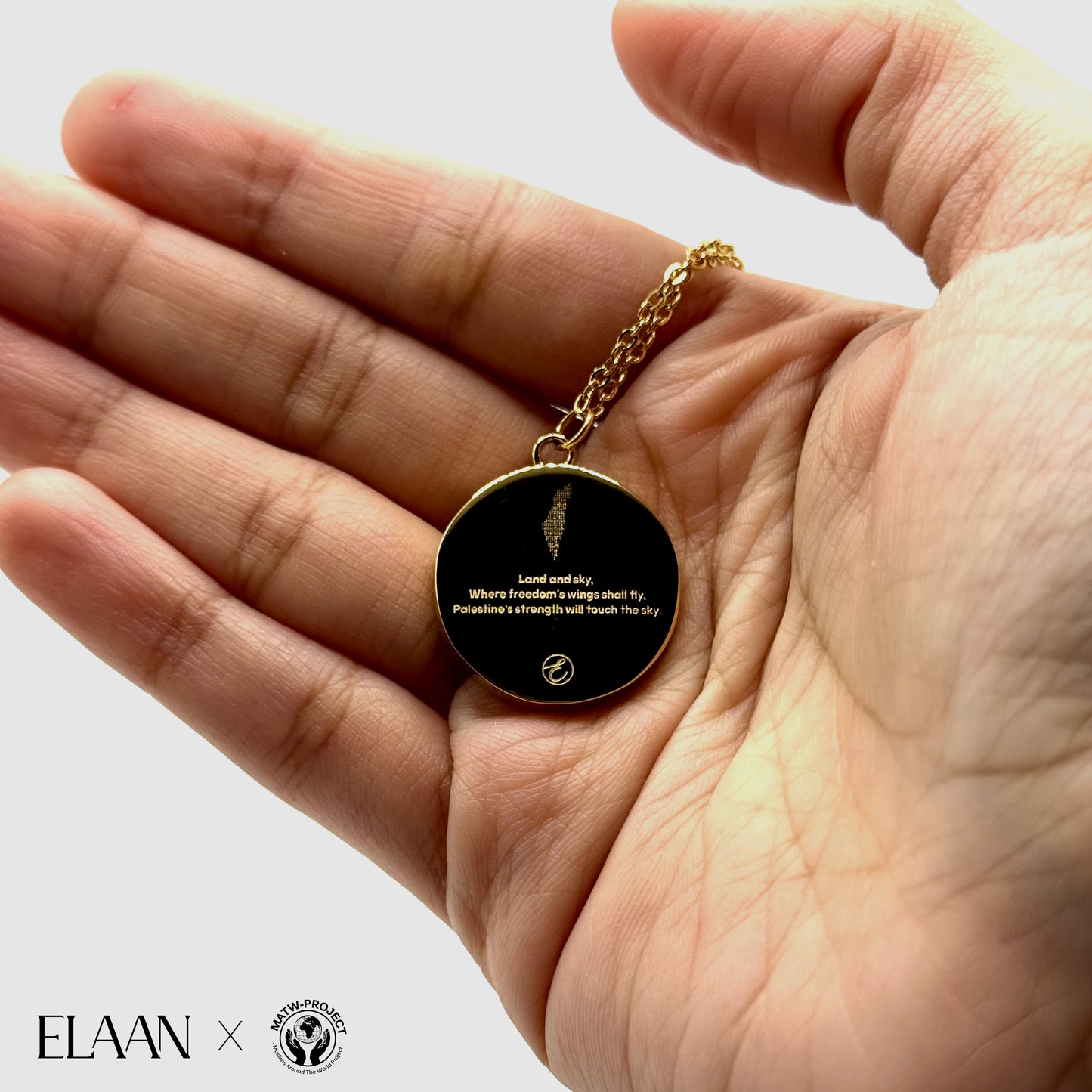 100% Profits from the Palestinian Liberation Necklace will be donated to MATW Gaza Appeal
Note: This product will not be discounted as all profits will be donated.
SUPPORT GAZA APPEAL
We are pleased to announce that Elaan has partnered up with @matw_project for a charity auction in Sydney during the 'One Ummah, One Body' fundraising dinner. Alhamdulillah, we successfully auctioned off two of Elaan's necklaces, raising a total of 4700 AUD (RM 14,300+).
All proceeds will go towards Gaza (MATW's Crisis and Emergency Appeals), in shaa Allah.
SUPPORT GAZA APPEAL
Very nice necklace
Everyone should have one in their collection
Love it!
I've been wearing it for the last few days and it feels like a dream. The design
The Perfect Meaningful Gift.
Bought as a gift for my partner & love how it brings more meaning to the jewellery she wears.
From the River to the Sea Palestine will be Free
Looking at the pendant itself makes me feel like I am fighting the battle in my own way. Palestine will stay close in my heart and will be in my prayers always. Palestine will win no matter what is ahead of them and we shall stand by them in prayers
Beautiful reminder of courage and patience
I was looking for a souvenir and this just fit perfectly. I love the design of the Masjid and the inscription in the back, reminding us our fellow brothers and sisters in Palestine. But just one little defect on the front side that is causing a slight drop of my review.